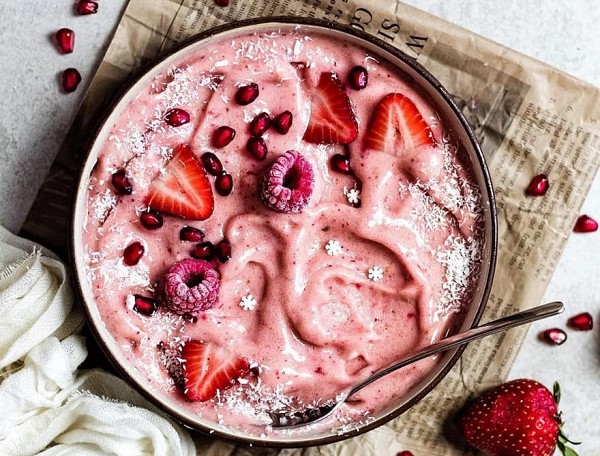 Ingredients
2 frozen ripe bananas
250 gr. strawberries or other seasonal fruit
Method
You will need a whisk. When you have bananas that are becoming too ripe don't throw them away but cut into rounds and freeze. When you have fresh fruit (at the moment I have a lot of strawberries) take out the frozen bananas and put them in a mixer or whisk together with the washed strawberries. Creaminess and sweetness come from the ripe bananas (in theory there is no need to add other sweetners) and the strawberries give colour and flavour.
You can create your own personalized version from other fruit, chocolate drops or coconut flakes or cereal or.....whatever takes your fancy! Also great with hazelnut cream or almonds.
Poi,se volete, potete arricchire con altro.
This is a very intelligent dessert (as well as tasty). You can just use what you have at home and its useful for not throwing away bananas when they start to ripen too much. You don't need to add sugar, and you'll have on hand a "sorbetto" whenever you want. Its suitable for many occasions and is an excellent snack for children, especially in the summer season.
More recipes from the category Desserts