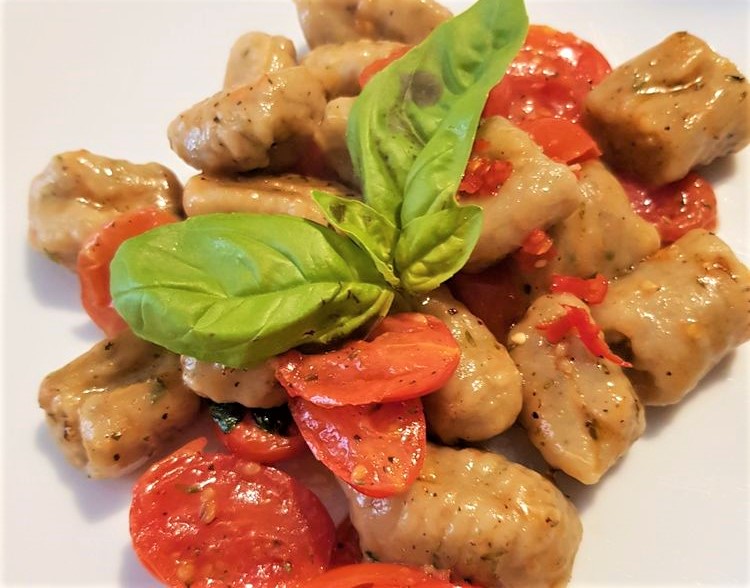 Ingredients
These gnocchi are prepared mixing cooked eggplant with boiled potatoes, the result is a particularly inviting mix which goes well with a simple sauce of baby tomatoes sauteed with a clove of garlic, or with a nice flavoured pesto or with mixed vegetables and basil….or if you prefer you can simply season with a good extravirgin olive oil because they're already tasty themselves!
Ingredients
1 kg. potatoes (for gnocchi the best would be red skinned potatoes)
200gr. eggplant
Flour type "2" (or other) quantity as required
A little salt
For the sauce
Baby tomatoes, garlic, salt, oil, basil leaves
Method
Boil the potatoes and when still tepid, mash with a masher: it is important to work them when warm as we won't be adding any egg for binding.
Meantime cut the eggplant into very small cubes and sautee in a pan with a little oil and salt. Then dry, cut finely and add to the potato mix. Add the flour and a little salt and knead well. Make the gnocchetti and cook in boiling, salted water until they float to the top.
Season with the fresh tomato sauce (baby tomatoes sauteed in a pan with a little oil and garlic) and decorate with basil leaves
Some advice? You can freeze before using and if you want, you can carve/line them using the necessary tools.
More recipes from the category Starters