Sabrina Peroni
Cooking lab
Nature creates and we cook!
Vege Table: nature creates and we cook!
Cooking lab
Pepper
Pepper is the common name given to the berry obtained from some varieties of the Capsicum species.
Turnip
The turnip is cultivated for its rounded root, sometimes rather squat.
The right place for anyone looking for recipes, ideas, motivation or news all with the theme 100% vegetable.
How many famous tables do you know?
The table of the ancient Egyptians, Greeks and Romans, King Arthurs Round Table, the table for festivities, the every day table where you find time for yourself and your family.
From today on you'll have an extra table, a veg table... the VEGE-TABLE!
This was formed with the intention of sharing tasty, appetizing, enthusiasic recipes for all palates starting from 100% vegetable ingredients and enhancing the authentic Mediterranean Diet. You will find many recipes that come from Italian cuisine rediscovered in vegan context, together with other dishes typical to various countries across the world.
Nature creates and we invent!
Are you ready? Let youself be pulled in and surprised by all you will find here.
Aubergine
Eggplant is a dicotyledonous angiosperm plant belonging to the Solanaceae family.
Cauliflower
Broccoli, also called broccoli cabbage, is a variety of Brassica oleracea .
From nature for you
Recipes
Corso di cucina online - vegan buffet
Diary of a Cooking Course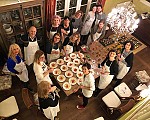 Corso online di cucina
Online su Meet lunedi 26 aprile h 18.00, 26/04/2021
Idea Vege-Table
We tell you
When I enter someones house, I feel welcomed if they sit me down immediately to their table. Have you ever reflected on this? The table is a central part of our lives more than we imagine. There we meet, discuss, joke, talk, eat. There we talk of life, expectations and fears. We bring our knowledge, the will to try and change. There an understanding or a love can be born. There we know, we are, we love.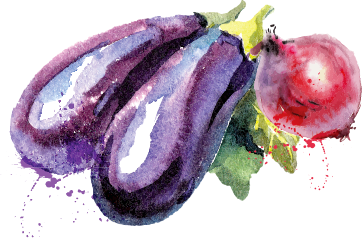 These pages want to reach a lot of people gifting them news, recipes, studies, stories amd experiences all coloured green, the most representative colour of the vegetable world.
Whoever wants to pass every now and again to this home to say hi will always find the door open, whoever wants to visit regularly will always be accepted with open arms, whoever wants to live here will feel themselves in a warm and safe place, where the key is hanging on the nook allowing you to enter anytime and recognise every day what respect for Life means, big and extraordinary words that we'll never be able to completely understand
The majority of what you will find on this website is free and can be shared, inspired by a sense of belonging to life and the same planet, by the desire to tell our stories and our recipes, our ideas and our feelings, freely and full of significance
This portal is open to all and takes the form of a big hug where dividing walls have been knocked down and where there is a lot of light entering from the wide windows. If you want to leave your imprint here you can because in this house we gather a lot of material, even your recipes, your ideas, your story could become part of this project...write to us and you'll become an integral part of this story
Stories of vegan love
Testimonials
"Because the life of others is their life" This is a story I will tell because Simona is no longer with us, or better still she will always be with us forever. I didn't know she was already sick when in the car we started talking about what was the turning point for her that pushed her to become vegetarian or vegan As mentioned, we were in the car, driving to the presentation of my book "Cavoli Nostri" in which I'd written a preface for her, telling the story of Melampo, the association that she'd been directing for 20 years. Melampo had welcomed hundreds of abbandoned cats and dogs, offering them a lot more than a shelter. She told me that at the start there wasn't enough money for nuggets so they had a deal to collect scraps of food, often scraps from the butchers: these were tremendous, there were easily recognisable anatomical parts. Parts that had the same form as our beloved little cats and dogs. This is what moved something inside of her which she decided to elaborate on: Simona wasn't afraid to get on a computer, connecting herself to YouTube and searching for a video made in a slaughterhouse. For those who knew her, this wasn't strange, Simona had always been like this: she wasn't afraid, or better still, she always wanted to look fear in the face, to show it that she was stronger. From that video on nothing was the same as before to her eyes. From then on the change. In the various meetings that we had together to present the book that I'd written, I always willingly left the word to her because of the two of us, hers was the important story. She had the beautiful words. The experience of a strong and courageous life was hers, much more than mine. And one day she concluded with a phrase that seems obvious but in reality contains the meaning of everything: "The life of others is their life!" Respect comes from here: no other beings life is mine but my own. Simo thanks for having existed and because you will always be with us forever! With lots of love Sabri
Sabrina
My name is Roberto, I work in commercial development for a company dealing with international shipments so I'm always in contact with lots of people and lots of regions. I adore motorcycles and travelling, and I love getting to know many different cultures. I approached vegan nutrition thanks to a dear friend who was engaged to a Cuban who was World Champion of tae kon doo, 2.06 meters tall and weighing 90 kg: a mass of muscles. When I met them in 2011, I was organizing events such as pre dinner drinks and meals on the beach in Ancona but despite my many invitations they always refused in that they were vegans and knew they wouldn't find anything suitable for them at the buffet. So I turned the tables around and asked them to invite me to their house: I was so surprised, happy and satisfied by what they had prepared for me that it was natural to exclaim "from tomorrow I'm becoming vegan too!". I ate really well but my athlete friend warned me "Roberto it's not so simple"! and so the next day I retruned to their house to prepare a vegan lunch, and even on that occasion I was left surprised and satisfied. At this stage Barbaro the Cuban athlete sent me files and books to study so I could become more familiar with the argument. Initially it wasn't easy, and I had started to buy a lot of ready made products from supermarket shelves. Then I turned to a nutritionalist and slowly I built up information and recipes. In the first 2 years I had to give up some flavours that I loved and missed (especially with regards to fish) and in part conviviality was limited: I lost some friends who took the word friendship to mean meeting up for dinner and nothing else. Fortunately many other friendships were created. However I did use this period of my life to become better informed, considering that mine wasn't a gradual change but sudden from one day to the next. I've been a blood donor for 13 years and thanks to vegan nutrition and excellent blood values I can donate 2 times more than the average donor. Even though I approached the vegan diet for health and wellness motives, these last years I've increasingly discovered the animal question and their salvation and I dress in a vegan manner, preferring companies who create clothes, shoes and accessories without animal exploitation. Now my only regret is not to have arrived sooner at this choice, but for this I find comfort in the words of my grandfather who often reminded me that "to each season corresponds it's own harvest"
Roberto
I'm Annalisa, I live in Bologna and work in insurance. When I was small, every weekend was spent with relatives in the countryside where there were loads of animals: goats, rabbits, dogs, cats and hens. I often saw pigs being slaughtered (as was normal on a farm) but also rabbits, goats and hens. On top of this, my father was a hunter and I often "had" to help him holding his prey so he could clean it properly. I couldn't eat any of these animals as I'd seen them alive, but we all know that once it was normal to force kids to eat against their will. However, growing up I could never appreciate meat based meals, even though some had become part of my diet, due mostly to habit. When I was about 30 I went on holiday abroad to a touristic village, where unawares I ate rotten meat, cooked in so many spicy herbs that I didn't even notice. Moral of the story: 2 days of colic and for 6 months after re-entering Italy, even just the sight of meat turned my stomach. When I was better, I met some people who had chosen a vegan philosophy of life, some opened an eatery, others a countryhouse, I myself started to visit fairs in this sector, exploring ways of cooking and expanding my horizons and I too started to be part of this world. The strange thing is that when I thought of a veg based diet, I imagined a world full of privations but instead it's an incredible source of innovative recipes….obviously you need to apply yourself steadily but I eat better and no one suffers. If I have to find something negative, it's that my social life has changed, because lots know recipes that don't use meat but when others find out that a vegan or vegetarian is coming to dinner they're paralyed and creativity dies...
Annalisa
Allowing that since I was small, I hated meat… I used to spit it out, crying because I didn't want to eat it and so I grew up vegetarian to the desperation of my mother given that I wouldn't eat eggs or dairy products voluntarily either I became vegan because of the animals. I've always loved them and was practically born among them (dogs, cats, horses, hens, cows, pigs etc… old farm style). Growing up I started to learn how milk and eggs etc. were produced I watched documentaries and I realized the awful living conditions and the atrocities to which these poor breeding animals were exposed and I asked myself: why would I make a cow suffer whilst covering my dog/horse/cat in kisses? What right have I to decide who dies and who doesn't? I know these are difficult topics but I don't want to accuse anyone. I just invite you to reflect… Feeling the taste of meat is more important than destroying a life? Just decreasing the consumption of animal products does a lot, not just for them, but also for your health and the environment.
Francesca
My infancy in the 60s was spent in the Italian countryside, where houses distanced eachother about 30 minutes on foot. In each house 2 , 3 or even 4 families lived for a total of 15 to 20 people. They all reared animals for food or to be sold at market: chickens, turkeys, geese , ducks and sheep, pigs, milking cows, calves. Even at my house we had all these animals, my job when I got home from school was to look after them all and they became my companions. When the time came to slaughter them I suffered a lot, but it was explained to me that this was their destiny and that they were in this world to feed people. When I grew up and got married, I continued with my parents traditions. Having inherited the country home I bought a horse, a donkey and a goat . Later a pig, a cow and some sheep. I was practically reconstructing the life I'd had as a child. This made me happy and proud but I still had the same problem as before. Animals I got young were reared with all the attention and care necessary to keep them well, living free and peaceful in huge spaces, but when they grew up, that terrible day always arrived which was their last. Each time I felt sick. I felt awful but I remembered the words of my parents and thought this was the way it must be. When it was time to eat this meat it was more a sufference than a pleasure but I convinced myself this was genuine meat from animals reared on hay and barley and corn flour cultivated by me and therefore of excellent quality. After a few years, I acquired a pair of Vietnamese pigs, the black ones, and piglets were born on my farm. In one of the litters a piglet who was smaller than the rest was born and was sure to soon die. I took him and brought him home. With a babys bottle and lots of patience, my daughter day after day reared him and tamed him too. He lived in the house with us like a dog, he slept in a basket and did what he needed to do in the cat litter. At night, he was up in the arms watching television. When he reached adulthood, we took him back to the farm where at the age of 14 he died of old age. The fact that this little pig behaved as a pet shook the whole family. Even now I have a cow who is 24 years old who I got from a farmer years ago when he was bringing it to the butchers because he couldn't keep it anymore. This splendid cow was pregnant and a calf was born on the farm. Once born seeing the love the mother had for her calf while licking it clean was enough to give you goosebumps. The calf grew healthy and strong, free in the fields with her mother. When she saw me, she jumped and ran wanting to play. After a year she was a beautiful young cow weighing 250Kg. The neighbouring farmers told me it was time to bring her to the butchers. I hesitated but with the memories of what my relatives always said one day I took the decision. I called a truck to come get her and it left for the butchers: here there's a path the animal has to walk to reach the slaughterhouse. On arriving my young cow was unloaded and had to pass in this open walkway. I was in the square with my heart in my mouth once again asking myself was this the way it was supposed to be? Suddenly the cow stopped, she didn't want to proceed, she turned her head and looked at me with her big, sad brown eyes: she seemed to be asking me " Fabio where have you brought me? why are you abandoning me?". I was so struck in that moment that I didn't have time to stop the butchers who in a few minutes ended the life of my little cow. I started crying to the perplexity of the other breeders there waiting satisfied while also their cows were killed. From that day on I promised myself that I would never again eat any type of animal because just the thoughts of it made me sick. It's been more than 10 years since I ate meat and I feel great both physically and mentally. I have two horses, l donkey and the cow who all live peaceful and free in 4 hectares of land and they'll stay there until they die of natural causes.
Fabio Pagnetti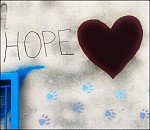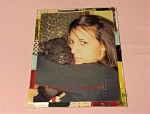 News from blog
Vege-Table
Fill out the form for contact us
We are in Fano