Pink gnocchi on a cream of cabbage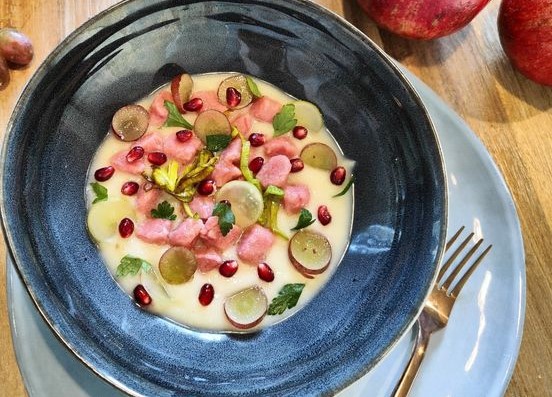 Ingredients
I was stunned by a dish eaten, a few years ago, in an excellent vegan restaurant in Turin and here I have tried to recreate the idea of this dish
PINK GNOCCHETTI ON A CREAM OF CABBAGE
The coloured gnocchetto blends well with a cream obtained cooking the cabbage in water and lavander; the crunchiness comes from the pomegranate and the grapes; the pungent taste from the roasted leek: it's an excellent starter!
Ingredients for 4 people
For the Gnocchi
800 gr. potatoes (best red)
80 gr. boiled beet
Flour
1 pinch of salt
For the Cream:
1 small white cabbage
2 drops of EDIBLE lavander essential oil
Water, oil, salt
To complete:
grapes
pomegranate grains
roasted leek
parsley
Method
PREPARE THE GNOCCHI: boil the potatoes and blend the boiled beet: mash the potatoes, add the blended beet and add the salt and the flour a little at a time. Knead and make the gnocchetti.
Boil the cabbage in salted water with the 2 drops of EDIBILE lavander essential oil
Blend the cabbage with water, add oil and salt
Slice the grapes, prepare the pomegranate seeds and scald small rounds of the leek in oil.
Boil the gnocchi, prepare at the base of every dish the cream of cabbage, pour the cooked gnocchi over and add the leek, pomegranate, grapes and parsley.
More recipes from the category Starters