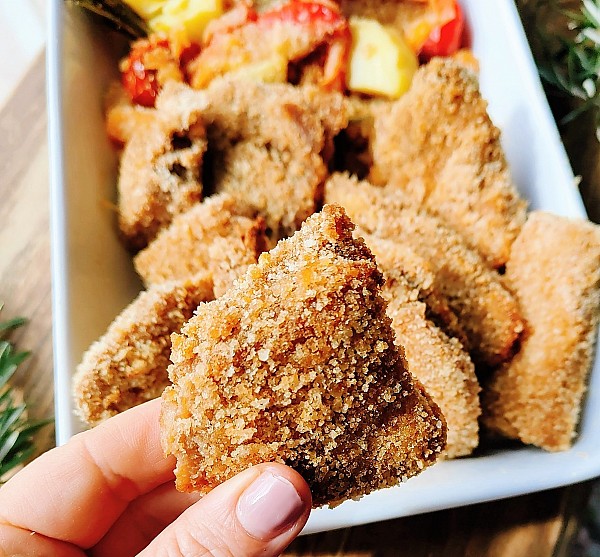 Ingredients
For the batter: water and flour (or chickpea flour)
For the coating: breadcrumbs and seasoning of your choice (salt, pepper, paprika, oregano, rosmary, etc)
As a cutlet you can coat: seitan, tofu, tempeh, boiled and blended chickpeas or even eggplant, celeriac or other
in the photo I used a fantastic artisanal seitan, cut into slices, dipped in a batter of water and flour and then in the aromatized breadcrumbs
Method
in a few steps you can produce a very tasty meal liked by everyone, a vegan meal, delicious and quick!
Slice the veg or seitan or tofu or other ingredients
prepare the batter and the coating.
Dip the cutlet first into the batter and then the coating/breadcrumbs.
You can then fry in very hot oil or cook in the oven after having oiled a little
I preferred not to fry so cooked in the oven along with vegetables flavoured with the same breadcrumb mix creating a very tasty dinner, vegan and flavoursome … very very sustainable!!
More recipes from the category Main courses