VEGETABLE MEATBALLS WITH PUMPKIN MAYONNAISE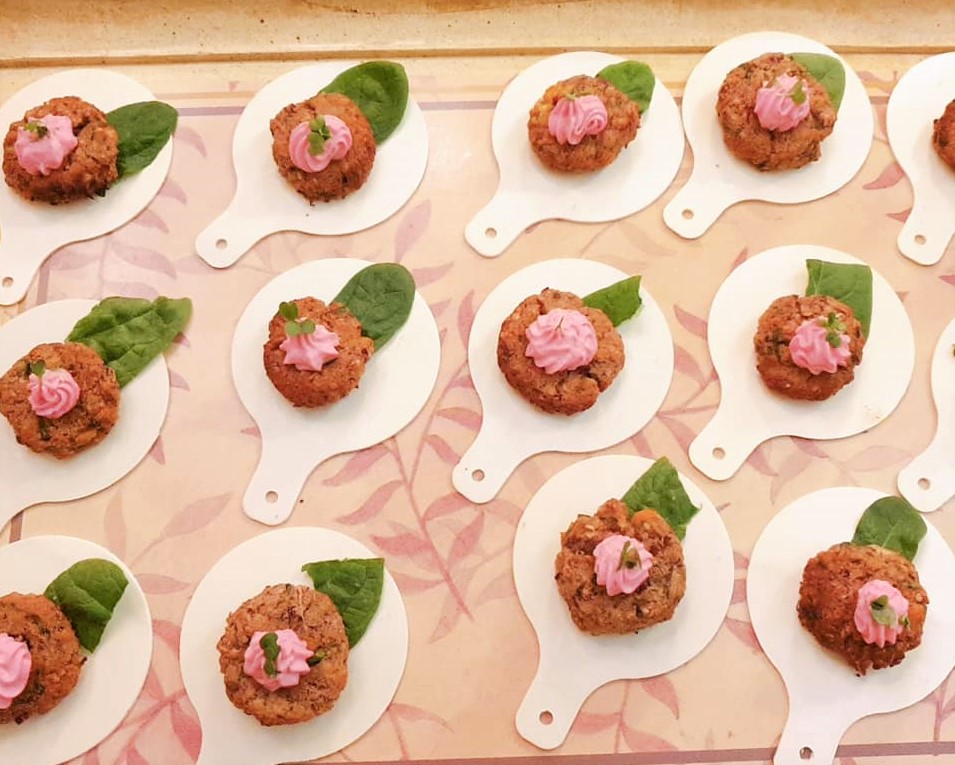 Ingredients
2 potatoes
1 zucchini/courgette
½ pepper
1 carrot
1 spring onion
120 gr. Boiled chickpeas
2 spoonfuls of cooked grain (rice-millet-quinoa-oats–spelled etc.)
1 spoonful of nutritional yeast
Breadcrumbs
2 spoonfuls of chickpea flour
Salt, pepper and sweet mustard
Method
Grate, or finely chop, the vegetables and cook in a pan with a little oil and salt. Drain any remaining liquid and blend together with the boiled chickpeas.

Now add the cooked grain (rice, millet, quinoa, etc.), the chickpea flour, the breadcrumbs and the

nutritional yeast

(an inactive flavouring). Add salt and pepper to taste and a teaspoonful of sweet mustard.

Leave to rest in the fridge for about 2 hours to allow the mixture to thicken.

Now form your meatballs and put into the oven at 180°C having first coated lightly with oil. They will cook in about 20 minutes.
For the mayonnaise: to the basic recipe, add oven cooked pumpkin, choose a pulpy pumpkin which will help maintain the consistency of the mayonnaise and a generous dose of sweet mustard.
Could be an non-waste dish where you can include some ingredients you already have to hand: the secret of good cooking is to give a new lease of life to left overs!
More recipes from the category Main courses