Eggplant Cordon Bleu gluten free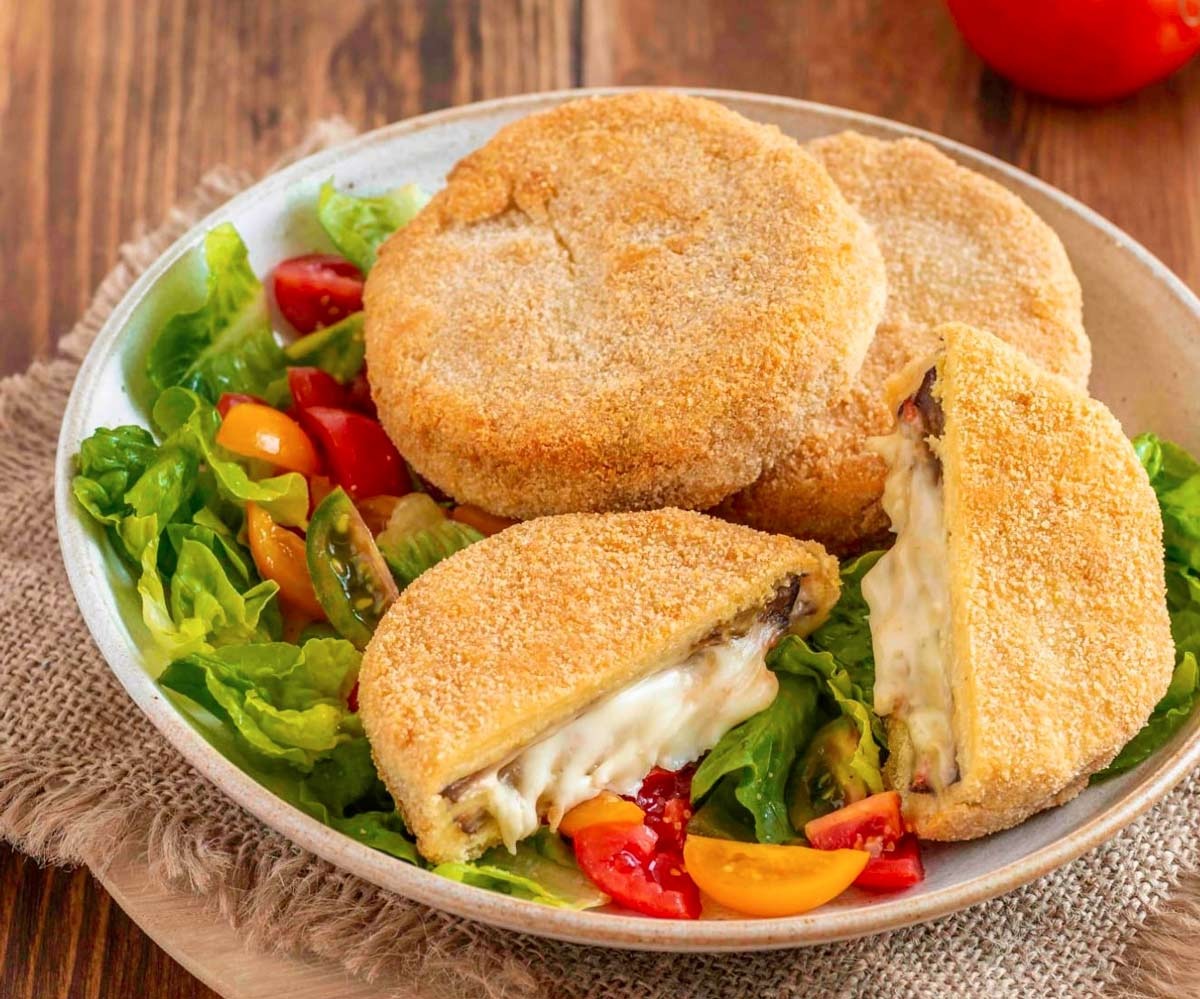 Ingredients
1 large round eggplant
1 large tomato
4 slices of vegetable cheese
salt, oregano, olive oil as necessary
For the batter
100 gr. chickpea flour
180 ml. Cold water (best if sparkling)
salt, rice breadcrumbs as necessary
Method
Wash the eggplant and remove the extremeties, obtain 8 slices of about half a centimeter in thickness. Wash the tomato and cut 4 slices of about 3 mm thickness. Start to compose the Cordon Bleu with a slice of eggplant, then a slice of tomato seasoned with oregano, a drizzle of oil, salt, a slice of cheese and top everything with another slice of eggplant.
In a bowl place the chickpea flour and a pinch of salt, add a glass of water
And start to mix with a whisk to avoid the formation of lumps. Continue to add water, until the consistency is that of a beaten egg. In a large dish, pour the rice breadcrumbs, dip the
Cordon Bleu on both sides and the edges, first into the batter then the breadcrumbs, place in a cooking tin lined with baking paper, drizzle over some oil (do the same for the other side, turning over halfway through cooking) and cook in a fan oven for about 20 minutes at 180 °C until golden.
Advice
The thickness of the eggplant slices is fundamental, if too thick they may remain raw inside. To make them even tastier, you can add to the filling gluten free vegetal slices. For those who don't have a gluten intollerance, you can use normal breadcrumbs.
You can read here our interview with Antonella "the Vegan Star"
More recipes from the category Chef in cucina