Ravioli with lentils - by Chef Ylenia Motta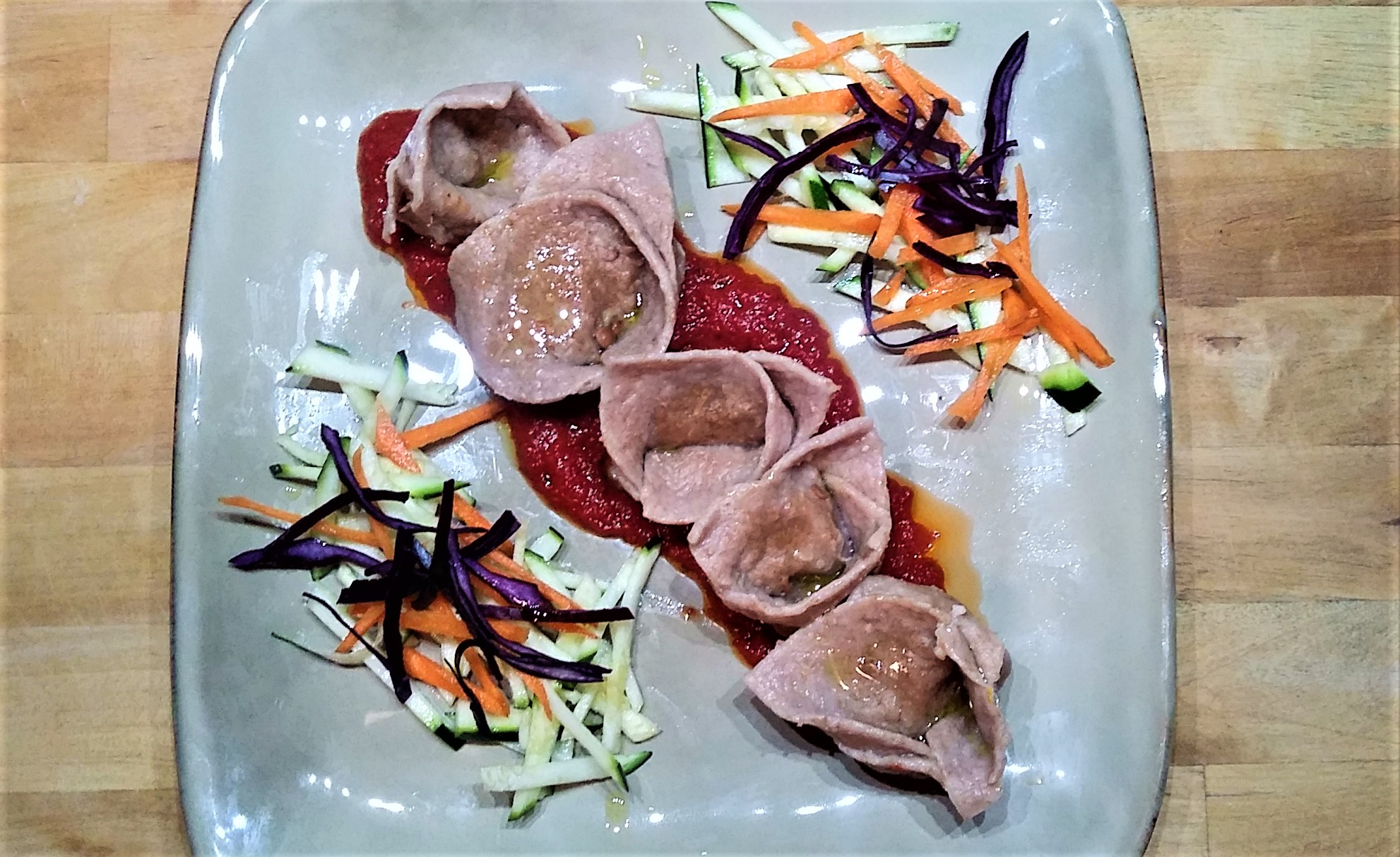 Ingredients
Ingredients for 4 people
200gr. flour (whichever you prefer for fresh pasta dough, I always use wholewheat spelled), plus extra flour to sprinkle
120gr. dried lentils
1 small celery stick
1 small carrot
1 shallot or onion
10 chopped walnuts
Extra virgin olive oil, salt, pepper, nutmeg, nutritional yeast
Aromatic herbs of your choice (rosemary and thyme are particularly suited)
Method
Cook the lentils and drain well.
Chop the celery, carrot and shallot, brown in a pan with the oil and aromatic herbs. When the vegetables are almost cooked, add the lentils and season with the salt, pepper and nutmeg. Leave to brown for a few minutes, stirring.
Transfer the filling into a bowl (it must be dry) and flavour with the nutritional yeast, 1-2 spoonfuls should be enough. Add the chopped walnuts, mix and leave the filling to cool.
I use a blender to whisk a little, not into a cream, but just enough so it is part "pasty" and part crunchy.
Prepare the dough with the flour, water and a pinch of salt, the dough should be elastic, but not humid.
Roll the dough with a rolling pin on a floured surface or use a pasta machine. The thickness of the pasta sheet should be around one millimeter. Cut the sheet with a wheel or a pastry ring depending on the form you want the raviolo to take (halfmoon, tortelli, sunflower…) and fill with a spoonful of the filling. Close as you prefer and proceed until the pasta is finished…or the filling…or both!
N.B. Depending on the form and dimensions of the ravioli the final number of same will obviously change. With the halfmoon shape (10cm pastry ring) you will get about 40 ravioli.
Season the ravioli with soya butter and sage, or (as in the photo) with a fresh tomato and chilli pepper sauce!
I garnished with a crudites of cabbage, carrots and zucchini julienne, for the seasoning I whisked some basil leaves, salt and lemon juice in extra virgin olive oil.
Go and read the interview to Ylenia Motta
More recipes from the category Chef in cucina