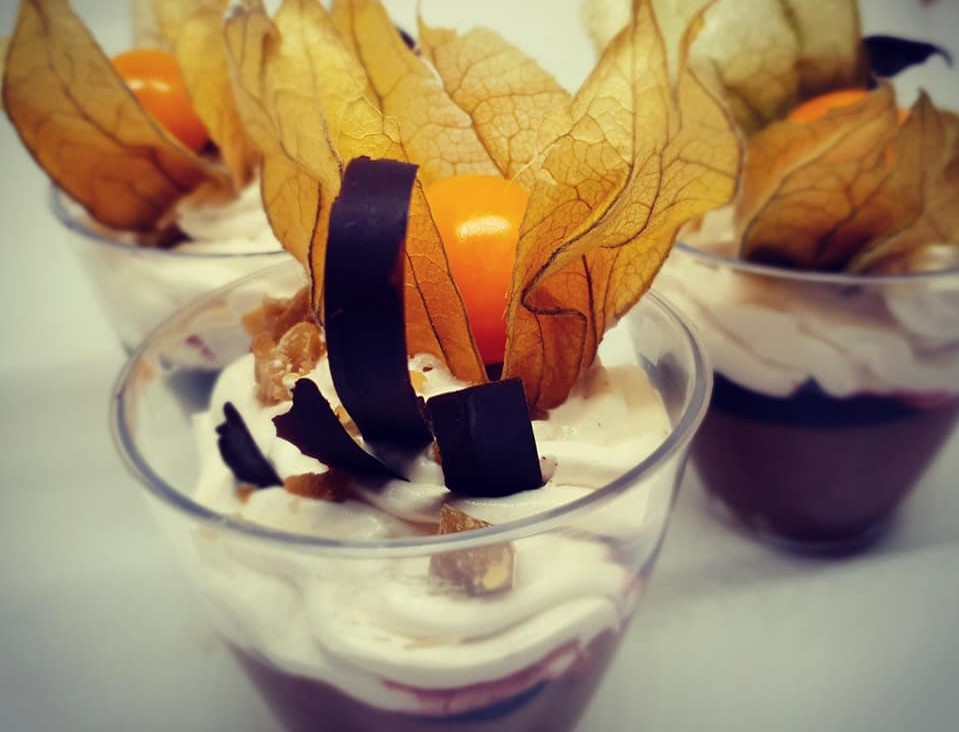 Ingredients
Ingredients for 10 glasses
10 cocoa shortbread biscuits
Some spoonfuls of coffee
300 gr. smooth tofu
150 gr. dark chocolate
3 spoonfuls agave syrup
Chestnut jam
Cherries
250gr. soya cream
Hazelnut cream 100% roughly 2 spoonfuls
Method
This is a dessert created from layers, the base being biscuits soaked in coffee, a chocolate mousse, a spoonful of chestnut jam, some cherries and finally a hazelnut flavoured cream with cherries or chocolate or whatever you fancy to decorate.
Prepare the mousse by melting the dark chocoalte in a bain marie then pouring into a bowl with the tofu and agave syrup (you could also use maple syrup). Whisk well to obtain a smooth and creamy mousse.
Prepare in the base of the glass 1 shortbread soaked in coffee then pour over about 3 spoonfuls of chocolate mousse.
Place in the fridge to thicken for about 2 hours.
Meantime whip the soya cream (previously kept in the fridge) with a whisk then add the 100% hazelnut cream. Mix well.
When the 2 hours are up, take the glasses out of the fridge and pour in each 1 spoonful of chestnut jam then 2 or 3 cherries. Now decorate with swirls of creams and, if you want, cherry juice and/or chocolate flakes.
More recipes from the category Desserts