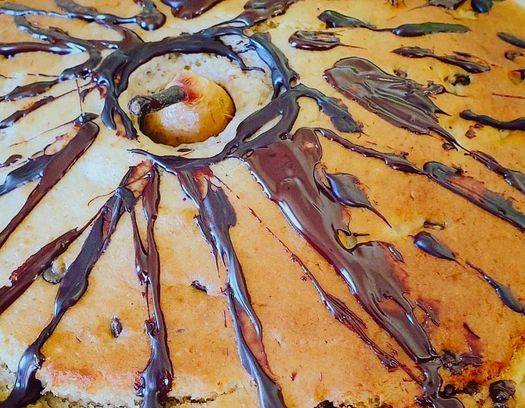 Ingredients
350gr. flour (I used 250gr. type "2" flour and
100gr. rice flour.... but you can use other flours)
80 gr. brown sugar
2 spoonfuls pear jam
1 sachet yeast for desserts (mix of cream of tartar and bicarbonate)
200ml soya milk (or almond or oat)
70ml deodorized and biological sunflower seed oil
1 tub of natural soya yoghurt (preferably unsweetened)
4 small pears
1 handful walnuts
Just enough chocolate drops
Method
Sift the flour and yeast and add the sugar
Next add the oil, vegetable milk, yoghurt and pear jam
Mix a little and add the diced pear, chopped walnuts and chocolate drops.
Pour into a round baking tin and bake at 180 degrees until golden (about 35-40 minutes)
...I wanted to create a donut shape with an entire pear in the middle!
Serve warm or cold...can be accompanied by a lemon or vanilla cream.
More recipes from the category Desserts