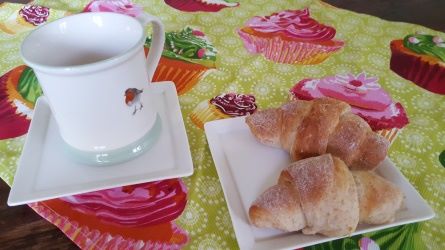 Ingredients
250 gr. flour type 2
250 gr. manitoba
1 spoonful of barley malt
60 gr. brown sugar
12 gr. brewers yeast
Rind of 1 lemon (untreated)
50 ml. Sunflower seed oil (best deodorized and organic)
250 ml. Soya vegetable drink (or other)
Method
Knead first the dry ingredients (sift the flours) with the lemon rind, sugar and malt. Then add the yeast dissolved in a little tepid water, the vegetable drink and seed oil. Knead well.
Leave to rest overnight in the fridge.
The following morning work the dough again, roll and cut out triangles. Fill the centre of the triangles with jam or spreadable chocolate and close starting from the base of the triangle, rolling forwards.
Bake in the oven at 180°C: careful as they bake quickly!
If you prefer to bake just the croissant without filling you can add the filling afterwards using cream, jam, chocolate, ice cream....or simply eat as they are because they are already delicious!
They can also be frozen in a well sealed bag.
Alternatively in place of the type 2 flour you can use spelled or kamut flour.
More recipes from the category Desserts