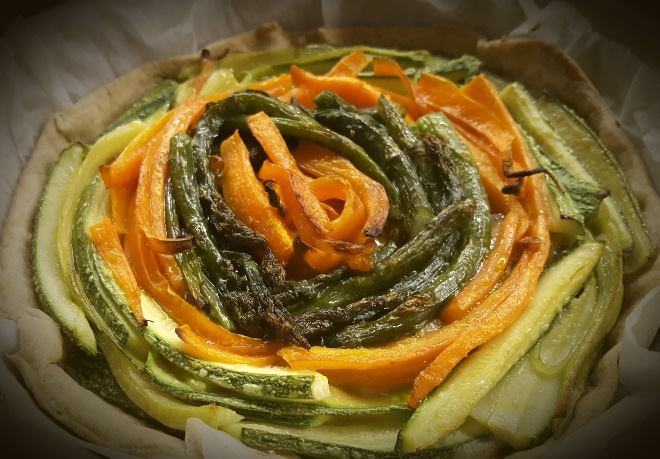 Ingredients
DOUGH (crazy dough)
200 gr. type "2" flour (or type "1" or wholewheat)
80ml. lukewarm water (a bit more if using wholewheat flour)
50ml. extra virgin olive oil
1 pinch of salt
VEGETABLES
2 zucchini
15 asparagus
2 carrots
oil salt pepper basil
optional: bechamel and other ingredients of your choice
Method
Mix the water, flour, oil and salt to form a soft and workable dough which you can leave to rest at room temperature for an hour.
Meantime concentrate on the filling: cut the vegetables into julienne strips and sauté in a pan with a little oil and salt. The advice is always to cook the vegetables separately instead of in the same pan and leave them with a little crunch.
If you wish, you can also prepare in a pan peas which can be whisked to form a base for easily mixing everything. Alternatively you can prepare a basil flavoured bechamel and add inactive dry nutritional yeast. Then on top of this base arrange the vegetables.
So roll the dough directly on the baking paper and then place in a baking tin.
Arrange the creamy pea mixture or bechamel (please remember this is optional) and then the vegetables on top.
Cook in the oven at 180°C for about 25 minutes.
More recipes from the category Appetizers